All-white kitchens are classic, timeless, and versatile. They can suit any style, from modern to farmhouse, and create a bright and airy space. But sometimes, an all-white kitchen can also feel bland, boring, or cold.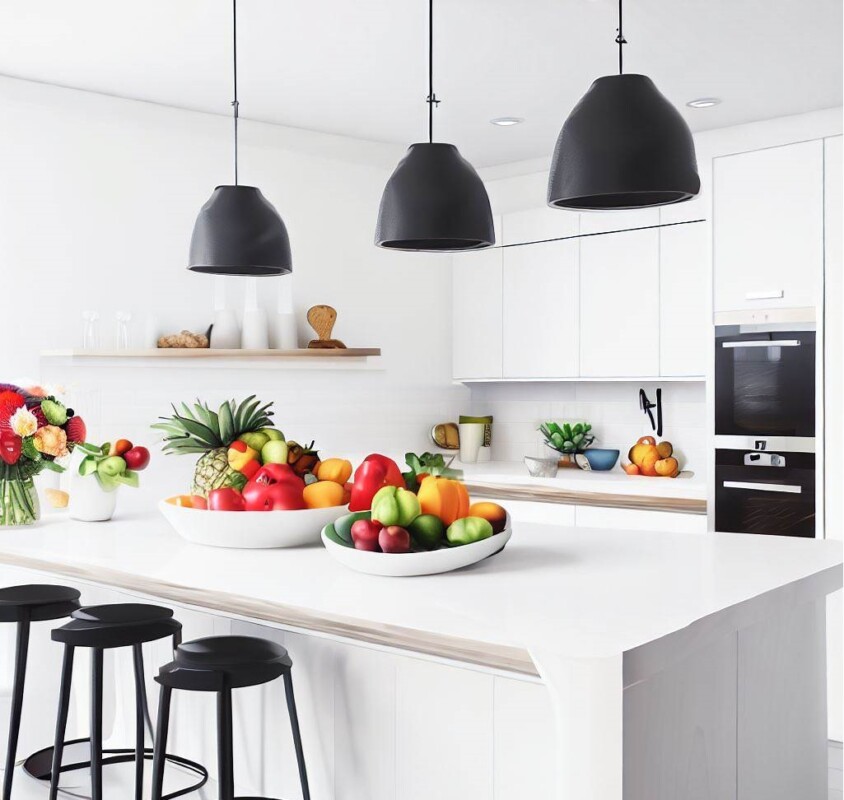 If you're looking for ways to spice up your white kitchen with some color, here are some ideas to inspire you.
Add Wood Tones
One of the easiest ways to warm up an all-white kitchen is to add some wood tones. Wood adds natural texture, contrast, and coziness to the space. You can incorporate wood in different ways, such as:
Floating shelves
Counter stools
Cutting boards
Bowls and trays
Floor or ceiling beams
Kitchen island or table
Wood also works well with any color scheme, so you can mix and match different shades and grains to create interest.
Tap Into Neutral Patterns
If you want to keep your white kitchen sleek and sophisticated, but not sterile, you can add some neutral patterns to break up the monotony. Neutral patterns can add subtle dimension and movement to the space without overwhelming it. You can use neutral patterns in different elements, such as:
Backsplash tiles
Floor or wall rugs
Window treatments
Wallpaper or wall art
Dish towels or napkins
Neutral patterns can range from geometric shapes to stripes to florals. You can choose patterns that match your style and personality.
Create Drama With Deep Colors
If you want to make a bold statement in your white kitchen, you can add some deep colors to create drama and contrast. Deep colors can add richness and elegance to the space and make it pop. You can use deep colors in different ways, such as:
Pendant lights or lamps
Cabinetry or island
Appliances or hardware
Accent wall or ceiling
Chairs or cushions
Deep colors can include black, navy, charcoal, burgundy, emerald, or any other dark hue. You can also mix and match different deep colors to create a dynamic look.
Invest in a Statement Rug
A statement rug can be a game-changer in an all-white kitchen. A statement rug can add color, texture, pattern, and warmth to the space and anchor it. A statement rug can also define different zones in an open-plan kitchen and make it feel more cozy and inviting. You can choose a statement rug that suits your style and mood, such as:
A bright and colorful rug for a cheerful and playful vibe
A neutral and textured rug for a calm and serene vibe
A bold and graphic rug for a modern and edgy vibe
A vintage or oriental rug for a bohemian or eclectic vibe
A statement rug can also be changed easily according to the season or your preference, so you can always refresh your white kitchen with a new look.
Incorporate Plants and Flowers
Plants and flowers are another simple and effective way to add color and life to an all-white kitchen. Plants and flowers can bring freshness, beauty, and fragrance to the space and make it feel more natural and welcoming. You can use plants and flowers in different ways, such as:
Hanging plants or baskets
Potted plants or herbs
Vases or jars of flowers
Wreaths or garlands
Wall planters or shelves
Plants and flowers can also help purify the air, reduce stress, and boost your mood. You can choose plants and flowers that match your style and maintenance level, such as succulents, ferns, orchids, roses, or tulips.
Conclusion
An all-white kitchen doesn't have to be boring or blah. With some creative ideas, you can add color and personality to your white kitchen and make it more lively and attractive. Whether you prefer a subtle or dramatic change, you can find the right option for your white kitchen. Remember that balance is key to decorating an all-white kitchen and avoid adding too much color or texture or not adding enough. Have fun experimenting with different colors and options and enjoy your white kitchen.